Dish Network Internet and TV Packages
From your favorite TV and Internet Packages to cutting-edge DVR technology, DISH gives you the best deals on entertainment. Take advantage of our current Dish Network specials. There has never been a better time to switch to DISH.
CURRENT DISH NETWORK DEALS:
2-Year Price Lock Guarantee
Free Standard Installation
Free Hopper® Smart HD DVR
Free Showtime and more for 3 months
Free HD for life – Includes the most popular Channels on DISH
Netflix Integration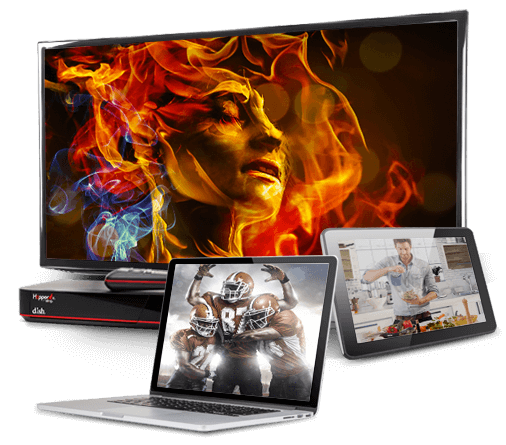 Plus These Deals On Top of the Great Savings:
Get A FREE $ Visa® Prepaid Card
Must Mention Offer Code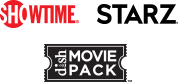 FREE Premium Channels
Get premium channels FREE for 3 months! With the best selection of original series and tons of the latest hit movies.
After 3 months, you will be charged $30/mo unless you call to cancel.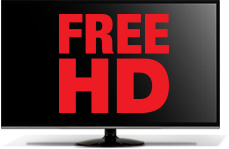 FREE HD for Life
Watch your favorite shows in HD — FREE! Make sure you're experiencing true HD on your HDTV with DISH HD programming and receivers.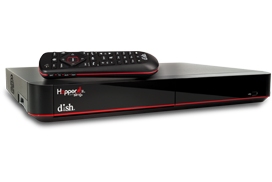 Hopper Upgrade
Upgrade to the award-winning Hopper 3 whole-home HD DVR for $5. Watch live TV anywhere, Autohop through commercials, and get 2,000 hours of recording capacity.
Cable TV vs. Satellite TV
While there are still some substantial differences between cable and satellite internet services, the differences between cable and satellite television services are not as pronounced. Both cable and satellite offer a multitude of channel packages that include as many channels as you could want. However, cable companies still tend to have the most expensive contracts overall. DISH Network offers comparable channel packages at cheaper prices, particularly if you bundle your television services with internet and phone as well. Decide what kind of channel package you want before you begin actively shopping, then take the time to find the best deal. DISH Network has several holiday sales a year that often include time-sensitive price drops.
Channel Packages
DISH Network offers four tiers of channel bundles, that all include a two-year price lock guarantee!
America's Top 120–Includes channel favorites like ESPN and local channels!
America's Top 120+–Includes everything that is in America's Top 120 package, plus regional sports, the NFL Network and more. In total this package gives subscribers access to over 190 channels!
America's Top 200–Includes everything that is in America's Top 120+ package, plus additional sports channels and other popular channels like A&E and Disney XD. In total this package gives subscribers access to over 240 channels.
America's Top 250–Includes everything that is in America's Top 200 package, plus 17 movie channels and more! This is DISH Network's most comprehensive offering.
Along with the lowest prices on quality TV Packages,
qualified subscribers can also get these DISH Network deals:
PLANS Start at $84.99 per month
Free Hopper® Smart HD DVR
NETFLIX Integration
FREE high-definition programming for life
FREE premium movie channels for three months
FREE DISH Movie Pack movies for three months
Are you a sports fan? DISH has the perfect add-on special just for you.
The Multi-Sport Pack features more than 35 of the best sports channels
on television, including NFL RedZone, MLB Network, Fox Sports 1 and
much more. This DISH exclusive can be added to any regular TV package
for one low monthly price.
For the best dish deals call 1-855-644-8266 now and find out how much
you can save, or order DISH Network online today.
By submitting this form, I acknowledge that I permit GoDISH.com to use my information provided to search for their best current offers for DISH Satellite TV plus internet service. I also grant GoDISH.com express consent to contact me at the number and/or email address I have provided above with automated technology in relation to this inquiry via phone, e-mail, or text message. I understand that I am not required to consent to make a purchase.
DISH Network's DVR: The Best In The Business
The Hopper 3 DVR is reason enough on its own to switch over to DISH Network. The Hopper 3 is undeniably the most powerful DVR on the market. The Hopper 3 boasts up to 500 hours of recorded high-definition content storage and has the potential to record up to 16 different shows at once in 4k. With the addition of Joey receivers, you can bring the power of the Hopper into several different rooms in your home. Several of DISH Network's bundle offers include a free Hopper 3! With DISH Anywhere and the HopperGo you can enjoy any of your DVR content, wherever you may be. Yet another reason to seriously consider bundling your services.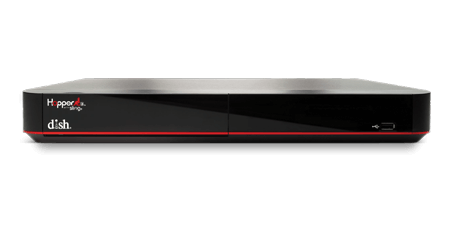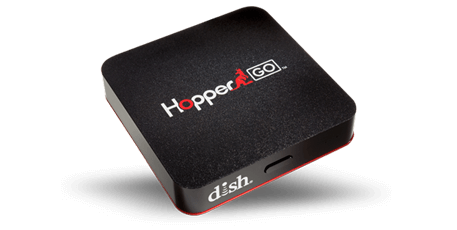 HopperGo
You don't always want to watch your favorite show in the living room. People are on the go more now than ever before, and DISH is ready to travel with them. The HopperGo is a pocket DVR that can fit in the palm of your hand. It does not require an internet connection to use, can connect to five devices at once and doesn't use mobile data! Now you can take your Hopper content with you wherever you go, and stream it whenever you want. No internet dependency doesn't just mean that you are saving data, it also makes buffering a problem of the past! Untether your life with the HopperGo from DISH Network.
Cable Internet vs Satellite Internet
The debate between satellite and cable internet services has become more nuanced as technology continues to advance. Satellite internet in 2017 is not what it was ten, or even five, years ago. Now, satellite internet can offer speeds comparable to those offered by high-speed cable services; with plans to offer even faster service options as the next generation of satellites go into orbit. As of now, cable still offers the fastest connection if you live in an area of service. Satellite, on the other hand, offers comparable speeds and is available anywhere in the continental US; as long as your personal satellite dish has a clear shot of the sky. While cable is fast, we believe that if you look at the technology, price, location and speed of service, it becomes clear that satellite internet services, like those offered by DISH Network, are the best choice for most people in the United States.
While a wired connection, like cable will always be a little faster than a wireless connection.
Cable download speeds tend to range from 20-100+ Mbps, with upload speeds of 1.5-5 Mbps.
Conversely, satellite internet services are slower on average with download speeds ranging
from 5-25 Mbps and upload speeds of 1-2 Mpbs. It is important to note that while cable can be
faster, it is also not available in many rural areas. Satellite internet services are available pretty
much anywhere in the United States where a home satellite dish can get a clear shot of the sky.
The trick to understanding the price differences between cable and satellite lies in understanding
the differences in the way each kind of technology works. Cable is usually offered by a local
television provider and utilizes physical cables in the ground that connect to a modem you
have in a customer's home. Satellite, as the name suggests, operates by sending data to and
from satellites in space. An internet connection on Earth sends a signal to a satellite in orbit
which then relays the data back to a personal satellite dish which all customers must have
installed on their home.
The difference essentially comes down to location, if a potential customer lives in an area
where cable is not available then satellite internet is a great option. If you they happen to live
in a more urban area, it could be worth looking into a wired connection. However, a wired
connection does not necessarily mean cable. DISH Network also offers wired DSL internet
connections, with comparable speeds to cable, for those customers who want something
a little faster. In that instance, it would behoove a customer to shop around and find the
right bundle that is best for them.
Location: Cable vs. Satellite
Location is one of the most important factors to consider when you are deciding between cable and satellite services. While cable currently has the highest speeds available on their top tier packages, cable also has a much more limited service area. Potential customers who live in a more rural area might not even have the option of cable. While many cable companies tout that they are willing to expand their service area if the customer is willing to pay for the new wiring, this often costs thousands of dollars. Satellite internet works anywhere in the continental United States! All you need to do is make sure your personal satellite dish is mounted somewhere with a clear shot to the sky. If you live in a rural part of the country, satellite is likely going to be the best choice for you.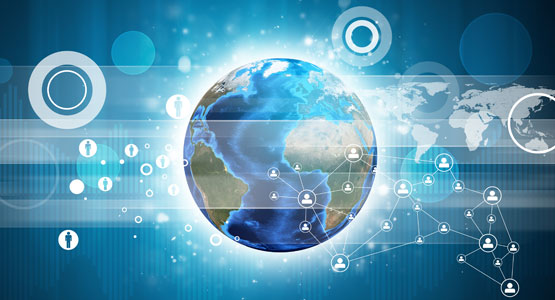 BUNDLE TOGETHER AND SAVE
Qualifying new DISH customers can choose between great specials and promotions to get the best deal on DISH Network TV and Internet.
All offers require credit qualification and 24-month commitment and early termination fee with eAutopay. Prices include Hopper Duo for qualifying customers. Hopper, Hopper w/Sling or Hopper 3 $5/mo. more. Upfront fees may apply based on credit qualification.
WHY BUNDLE?
The case for bundling services was much more difficult to make before internet connectivity became
ubiquitous in modern society. Quite simply, if you are looking to purchase television services, always bundle them with your internet services. The only time when it makes sense not to bundle your services is if you are not interested in television content. In 2017, an internet connection is almost mandatory. Companies, like DISH Network, offer huge savings on the total cost of services if you bundle both internet and television together. Take the time to research the bundles that are available to you and pay special attention to holiday pricing! DISH Network in particular tends to have time sensitive deals for potential new customers. The bottom line is this: if you are purchasing any kind of television service, bundle it with your internet. If you want to add a phone line, bundle that too. You will save money every time.
BEST DEALS WHEN YOU BUNDLE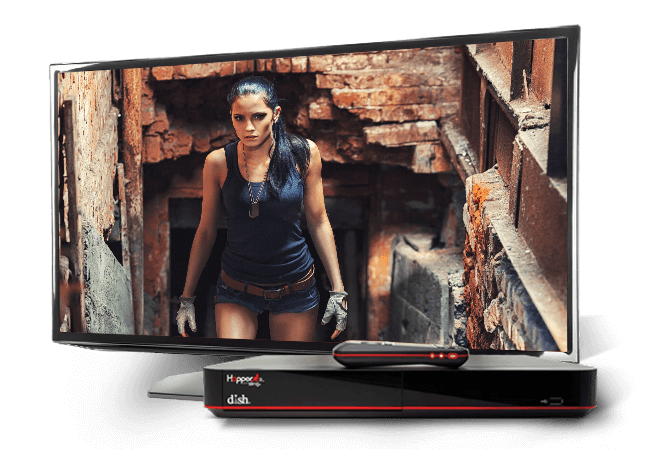 Free Premium Channels
Get 3 months of premium entertainment such as: Showtime and the DISH Movie Pack free for 3 months with a qualifying 2-year contract.
Premium channels have some of television's most popular shows, including Showtime's Homeland; as well as movies, documentaries, exclusive stand-up comedy specials, and more.
---
Phone Bundles
DISH Network offers phone and internet services that can easily be bundled together with television services. If you decide that you do need a landline, always try to bundle it with your internet service. You'll always save money, and with DISH you know you're getting high quality service! The best part about bundles with DISH Network is that almost all of them include two-year price guarantees.
Deals that Save a Bundle
DISH TV & High Speed Internet
Looking to get DISH TV and Internet all in one place? Then you're at the right spot! By combining offers from all of the major Internet and phone providers in the country, we are able to quite literally help you Save A Bundle!
Internet Providers

DISH and ALEXA
Did you know that DISH Network has worked closely with Amazon to integrate Alexa voice technology with their television services? If you have an Amazon Alexa and are a DISH Network subscriber, you can tell Alexa what show you want to watch, or record, and Alexa will take care of the rest! DISH Network has completed integrated Amazon's voice control with their Hopper 3 technology, making for a state-of-the-art home entertainment experience. These services will work with any of Amazon's echo devices.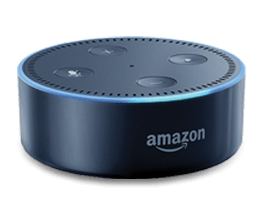 Customer Service: DISH Smart Home Services
DISH Network has an award-winning customer service team that provides a variety of in-home solutions to create an amazing home-entertainment experience. Whether you need a TV safely mounted on a wall, a new WiFi router setup or a new surround sound system installed, DISH is ready to help! They have a team of professionally trained and certified technicians who will come out to your home and help you with all your installation needs. DISH even has a smartphone repair service that will send a technician to your home to help replace a broken screen if you need it. DISH Network is committed to their customers and has the customer service reputation to prove it.
Exceptional Customer Experience
Showing our 4 & 5 star reviews
2 months ago
Still doesnt work right
By DISH Network Customer:


Marley
3 months ago
The technician was a true professional with great people skills.
By DISH Network Customer:


Charles Hill
4 months ago
Very professional and great customer service
By DISH Network Customer:


Customer
4 months ago
Quick .. very nice ..
By DISH Network Customer:


Carlene
4 months ago
The technician that did my installation, did a wonderful job of installation and explaining the system. Thank you!
By DISH Network Customer:


Carol
4 months ago
Loving my dish is
By DISH Network Customer:


Customer
4 months ago
The installation process was great but the internet is soooooooooooooo slow. Getting work accomplished takes way too long.
By DISH Network Customer:


Carmen
4 months ago
Totally love my Dish satellite just hate that my internet isn't connecting to my tv issue with the internet
By DISH Network Customer:


Selina Jones
4 months ago
Dish is awesome way cheaper than cable plus has more channels
By DISH Network Customer:


Customer
4 months ago
Still waiting on my reward cards. But service waa really good
By DISH Network Customer:


Mary Hilty
4 months ago
The tech was super . He answered all of my questions and explained everything i need to know.
By DISH Network Customer:


Tiffany
4 months ago
Service technician was very professional and quickly installed my equipment. He also showed me how to use the remote and guides. 5 stars for him! Only 2 stars for dish itself! Outrageous expensive! Unbelievable!
By DISH Network Customer:


Pam
4 months ago
Our technician was very professional. Especially having to install during these hard times with Covid-19.
By DISH Network Customer:


Wayne
4 months ago
Fast set up service . Friendly technician . I felt The ad was a little misleading , but otherwise seems like a great deal . We are enjoying our internet & our dish .
By DISH Network Customer:


Customer
4 months ago
Your Tech named Walter did a great job. Made sure everything was set up and working before he left.
By DISH Network Customer:


Nolan Trammell Customer
‹
›