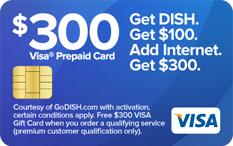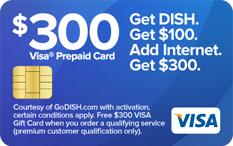 Your DISH TV + Internet Offer Just Got Sweeter!
Order Today and get a $300 Gift Card with TV & Internet
Take advantage of our unadvertised Gift Card offer today! Sign up for DISH TV and get a $100 Gift Card, and add internet for $200 more - a $300 total Gift Card offer!
What To Expect Next - Before 7 PM Central Time
You can call us right now at 1-855-644-8266 to take advantage of this offer, plus we will be calling you very soon to help you get started.
If it's before 7 PM Central, you should expect a phone call from GoDISH.com in the next 5 minutes (during our normal business hours as posted above). Our agents will be glad to visit with you and help find the right products and services for your needs!
What To Expect Next - After 7 PM Central Time
GoDISH will not call you in response to a web inquiry after 7 PM Central time. Please expect a call after 8 AM Central on the next day. GoDISH.com is open all days of the year, with the exception of Thanksgiving and Christmas.
Please feel free to call us! Our staff will be happy to help take care of your needs. You can dial the number at the top of this page!